Corrective Action Tracking Database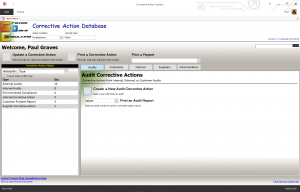 The Corrective Action Tracking Database is designed to support an ISO certified organization with detailed tracking of corrective and preventive actions throughout the company.  This version is designed to support multiple standards, including ISO 9001:2008 Quality Management Systems, ISO 14001 Environmental Management Systems, ISO 13485 Medical Device Standards, and TL9000 Telecommunications Standard.  This application is capable of tracking:
Audit non-conformances from internal, registrar, or customer audits
Customer Problem Reports compliant to the TL9000 standard
Internal Corrective and Preventive actions
Supplier Corrective Actions
Integrated into each corrective action types is a 5 why tool that helps the user step through questions 5 levels deep to reach the root cause.  After the questions are asked, it automatically re-formats them backward into therefore statements that allows you to verify the validity of your 5 why analysis.
The system tracks all corrective actions through specific status steps
Planning
Implementation
Customer Approval
Effectiveness review
Closure
These status steps are reported against 2 levels of due dates and can be added to an automated e-mail system capable of escalating late responses up your organization chart.  The functionality and security of the application is customizable and is setup to provide user security, electronic signatures, tracking of each edit down to who and when the changes were made, and permission based access to review and close each corrective action.
Download and trial the application free of charge.  This demo application requires Access 2007 or newer installed on your computer, is limited in administration functionality, and not setup to manage multiple users in the system at the same time.  Contact Graves Data Consulting to setup a quick consultation to determine the best way to implement the tool in your company.