How can we improve your business?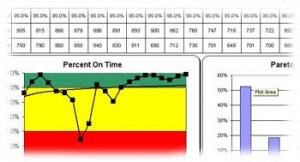 The key in today's business environment is efficiency.  With efficiency, every penny can be more effectively used to serve all the stakeholders in your company.  Efficiency gains can be realized with a custom database implementation by
Dramatically cutting down data entry time
Providing scalability to your data entry not possible with spreadsheets
Providing powerful yet simple tools to retrieve and analyze your data
Creating valuable inputs to make improvements in your business processes or marketing strategies
We can help your business run smarter by designing and implementing cost effective Microsoft Access solutions.  With a long background in custom Access development and integration with other Office programs we have the technical background required to quickly develop and implement a solution matching your business needs.  The experts at Graves Data Consulting come from an Operations and Quality background ensuring that your interface to the program and the output reports are exactly what you need and will require as little learning curve as possible.
Graves Data Consulting will work directly between your end users and IT resources to ensure your application meets your immediate needs, is reliable for the present, and scalable for the future.
Contact Graves Data Consulting to setup a meeting, obtain a quick quote, or request additional information.
Download our demonstration applications to see just how far Access can go as an automated data collection and reporting tool.
In addition to custom application development and automation tasks, Graves Data Consulting can design and implement training programs for your company to enable your associates to better utilize Microsoft Office tools and increase their productivity.  In a tough economy, training is often the first thing to be overlooked to the detriment to your companies efficiency, scalability, and output quality.  Contact Graves Data Consulting to learn more.